Intro
Tango is a browser extension that generates beautiful step-by-step guides while you work. Like really beautiful.
The product was launched last year and rapidly spread over the internet. According to the Chrome store the extension has more than 100k users now.
For some reason the product reminds me of Clockwise. A Chrome extension dead simple to understand or use. And highly valuable from the first usage.
To give some context, I'd say two recent trends speed up the path to success of Tango.
1. Remote: Tango was born during the emerge of remote which makes sense. It lets teams document things async and share.
2. Product-Led: Tango is the definition of "show, don"t tell". It lets companies show how their product works to their customers, in seconds.
Now let's see how it works and what makes it shine ✨
Vision
First, let's take a step back. A product without a great vision is useless. It's a hacky solution without a clear path to future success. I find Tango's vision to be pretty exciting:
At Tango, we believe that everyone should feel empowered to be the best at what they do. That's why we've made it our mission to support individuals and teams on their path to success and simplify their lives along the way. We're inspired by a world where work is easier to get done, learning on the job is frictionless, knowledge-sharing helps teams flourish, and no one is slowed down by a lack of know-how. That's the future we're building. A thrill for adventure, gratitude towards others, and plenty of creative thinking powers this ambitious vision. And we're just getting started.
Product
Tango has everything you would expect from a great product. A narrow value proposition which is easy to understand. And a broad set of use cases it can be used for (=big market!).
Among these use cases listed on the website, you can find:
Give Walkthroughs To Customers
Out of all the app dissections we wrote so far, the striking thing with Tango is how crisp its set of features are.
I spent hours playing with the product and it does 3 things. Really well though 😍
Let's crack on.
Capture a workflow
The core of the product is capturing a workflow you want to teach someone else.
Tango started with a chrome extension to record workflows in your web browser.
More recently it launched its native app to record anything (on the premium plan).
This process works like a good old VBA macro recording.
You press record, you do the workflow once. You can click done. Tada 🎉 The zoom effects makes it even quite engaging.
Like many other products I discussed in "Great products", Tango time to value is insanely short.
Edit
Once you capture a workflow you can edit it, i.e.: reorganize or delete steps, add arrows, texts or shapes. This is convenient, yet common.
Let's see what's less common.
First you can change the zoom level on the action you recorded. By default tango tries its best to magnify your action, but sometime it gets it wrong. This becomes handy.
Another very handy feature is blurring texts. This prevents you from creating workspaces with mock up data in your product. Just take your live environment and blur things that should be.
Blurring texts is something painful to do when you record a video. And in fairness I have never found a tool to do that well, and for cheap. With screenshots, it's a lot easier. Pick the screen and area you want to blur, done.
Where edit becomes really powerful is when you need to update your Tangos in the future. Let's say one screen of an app you use changes. But only one screen. Instead of recording everything again you can add a screenshot to an existing workflow.
Magic Copy
Great products acknowledge that some part of your work habits already happen elsewhere. And instead of fighting against these habits, embrace them. This is what we saw in Grain's case.
"Magic copy" follows that rule.
After you generate a workflow, Tango lets you do a copy in HTML. It's called "magic copy". It copies your workflows title, subtitles, and gif. Hit Cmd + V, done.
You may also share your workflows in a static way by exporting PDF. This is relevant for orgs that privilege offline formats too.
Embeds
When Tango built their embed I assume they had the following challenge: How can we fit a vertical step by step documentation anywhere on the internet, without taking too much space?
The answer: with embed cards!
Embeds cards are the horizontal version of the documentation. They're made of one step at a time, and a "continue" button.
If you open them in a new page they offer a new kind of experience. Even smoother than a vertical flow.
A nice little addition is the possibility to re-use workflows created by the Tango team. In case you're using one of the product listed in their workflow library.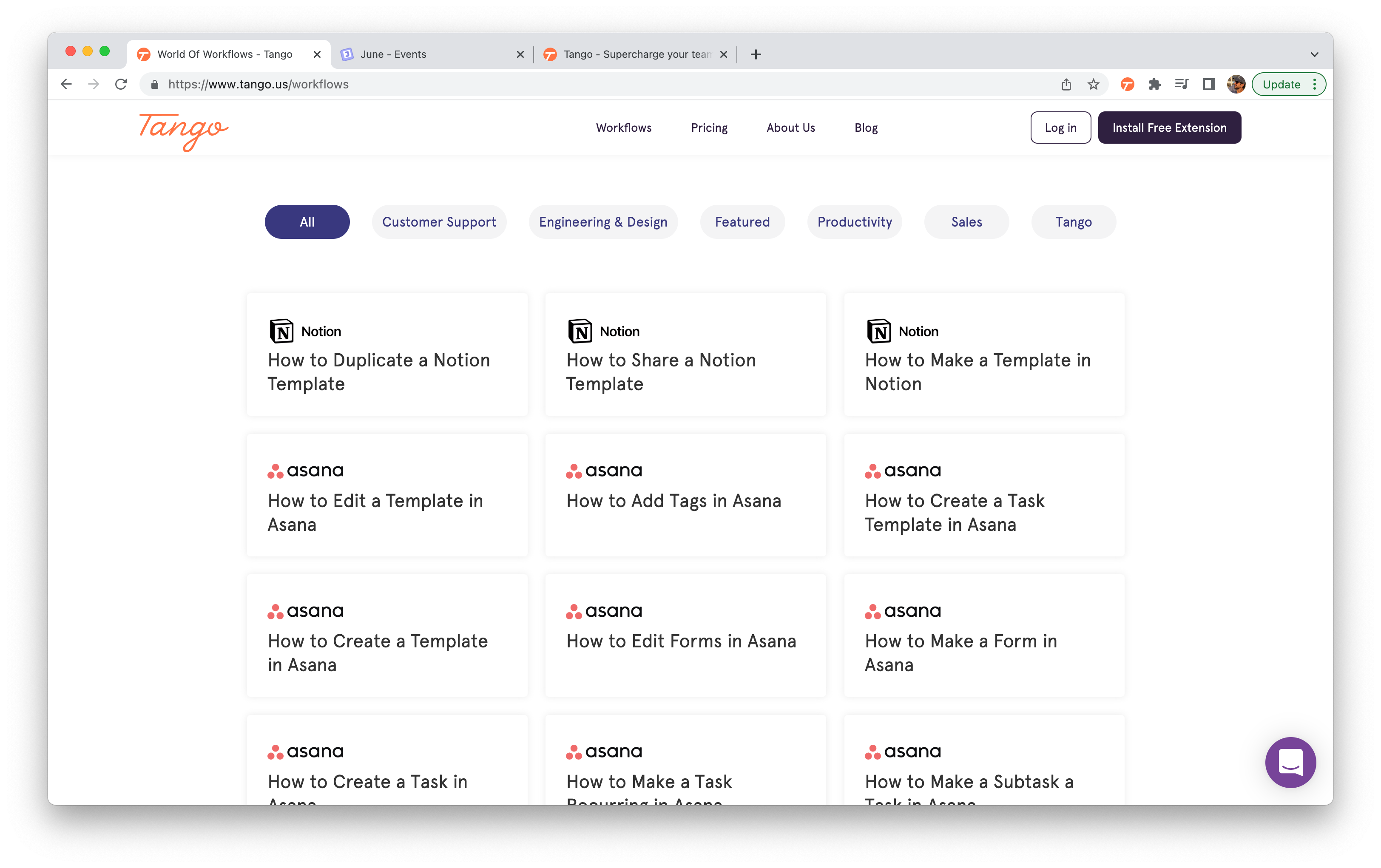 Pricing
Tango has a freemum offer.
It's free up to 25 workflows per user, then 16$ per month on the annual plan.
Premium features include workspace admin controls, capture Workflows across Desktop or Blur sensitive information during capture.